In today's global marketplace, Chinese manufacturers and suppliers play a significant role in fulfilling the sourcing needs of international buyers. With numerous B2B platforms available, each with its own unique advantages and business models, it's crucial for B2B buyers to understand and leverage these platforms effectively.
In this article, we will explore some prominent B2B platforms in China and shed light on their distinct features to help international buyers make informed decisions and benefit more from their purchasing decisions.
1-Alibaba: Gateway to Diverse Product Categories
https://www.alibaba.com/

Alibaba stands as one of the most renowned B2B platforms, offering an extensive range of products across various industries. With its vast supplier network, Alibaba connects international buyers with Chinese suppliers effortlessly. The platform's trade assurance, secure payment options, and verified supplier system provide a comprehensive trading environment. Whether you're seeking electronic goods, textiles, or machinery, Alibaba's diversity makes it a reliable choice for B2B buyers.
| | |
| --- | --- |
| Advantages | Disadvantages |
| Vast supplier network and diverse product categories. | High competition and potential for counterfeit or low-quality products. |
| Trade assurance and secured payment options. | Pricing can vary significantly across suppliers. |
| Verified supplier system for increased credibility. | Not friendly for industrial products or customized products. |
| RTS (ready to ship) service for small business owners or drop-shippers. | |
| More preferable for electronic goods and end users friendly. | |
2-Made in China: Custom Manufacturing Potential

https://www.made-in-china.com/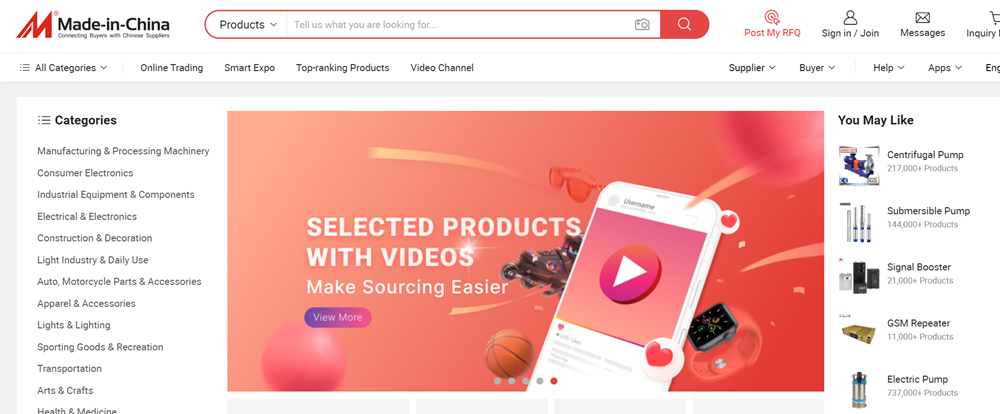 For B2B buyers looking for custom manufacturing or specialized products, Made in China is a platform that caters specifically to these needs. It facilitates direct communication between buyers and suppliers, enabling a seamless collaboration process. Made in China's focus on connecting international buyers with manufacturers and suppliers ensures a unique advantage for those seeking tailor-made solutions.
| | |
| --- | --- |
| Advantages | Disadvantages |
| Direct communication with manufacturers for custom manufacturing or specialized products. | Limited focus on standardized products or smaller-scale orders. |
| Verified supplier system for increased credibility. | Only focus on B2B business buyers, Not open to end users. |
| Tailor-made solutions and potential for product customization. | |
| Focus on manufacturing and construction industry | |
3-AliExpress: Convenience and Competitive Pricing for Small-Scale Orders
best.aliexpress.com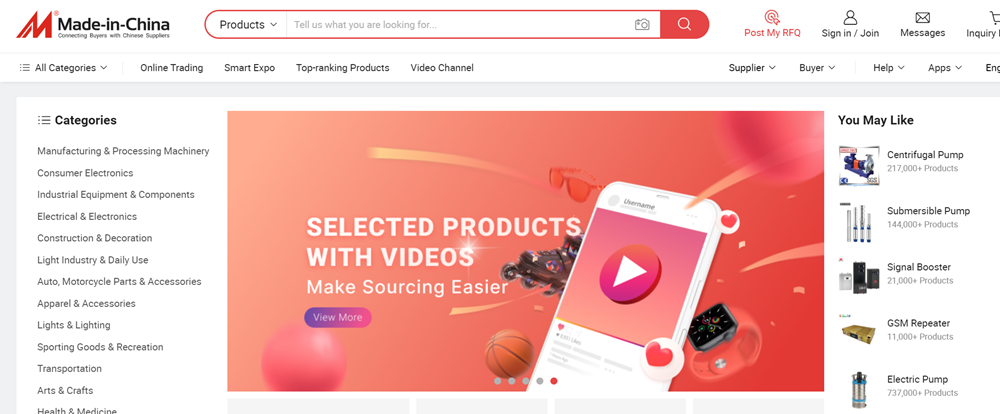 AliExpress, a B2C platform under the Alibaba Group, offers international buyers the opportunity to purchase products directly from Chinese suppliers. This platform is particularly beneficial for small-scale orders or individual buyers who seek competitive prices without compromising quality. AliExpress's user-friendly interface, buyer protection policies, and secure transactions enhance the overall buying experience.
| | |
| --- | --- |
| Advantages | Disadvantages |
| Convenient for small-scale orders and individual buyers. | Limited customization options. |
| Competitive prices and buyer protection policies. | Communication may be challenging, as the platform is primarily designed for B2C transactions. |
| User-friendly interface and secure transactions. | Quality control may vary across different sellers. |
4-1688.com: Bulk Purchases Made Easy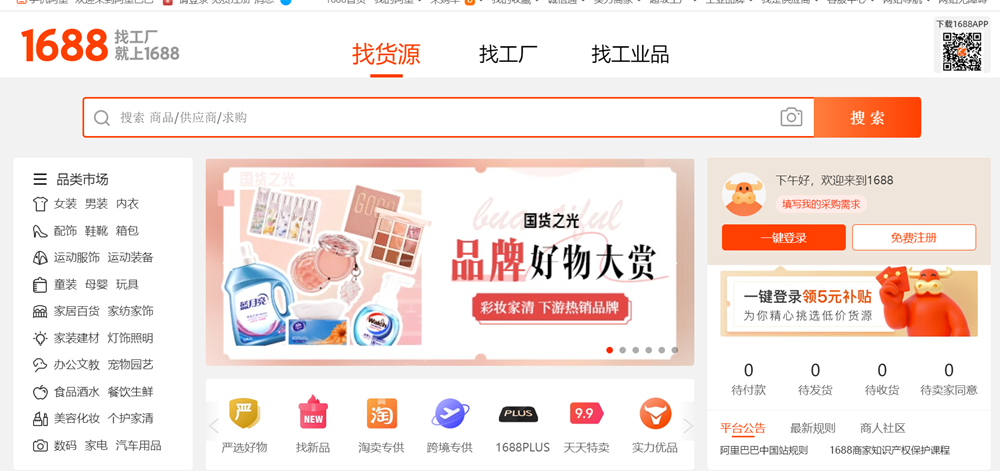 While primarily targeting the domestic Chinese market, 1688.com also caters to international buyers seeking direct sourcing from manufacturers and wholesalers. This B2B platform provides competitive pricing, an extensive range of suppliers, and a vast selection of products. 1688.com is an excellent option for B2B buyers looking to make bulk purchases and capitalize on cost-effective sourcing.
| | |
| --- | --- |
| Advantages | Disadvantages |
| Competitive pricing, especially for bulk purchases. | Primarily geared towards the domestic Chinese market, making communication and negotiation challenging for non-Chinese buyers. |
| Extensive range of suppliers and products. | Limited English language support on the platform. |
| Potential for direct sourcing from manufacturers and wholesalers. | Quality control and supplier verification may require additional scrutiny |
| | Suppliers maynot deal with export activity |
5-Online Canton Fair: The Virtual Trade Show Experience
https://www.cantonfair.org.cn/en-US/customPages/exhibition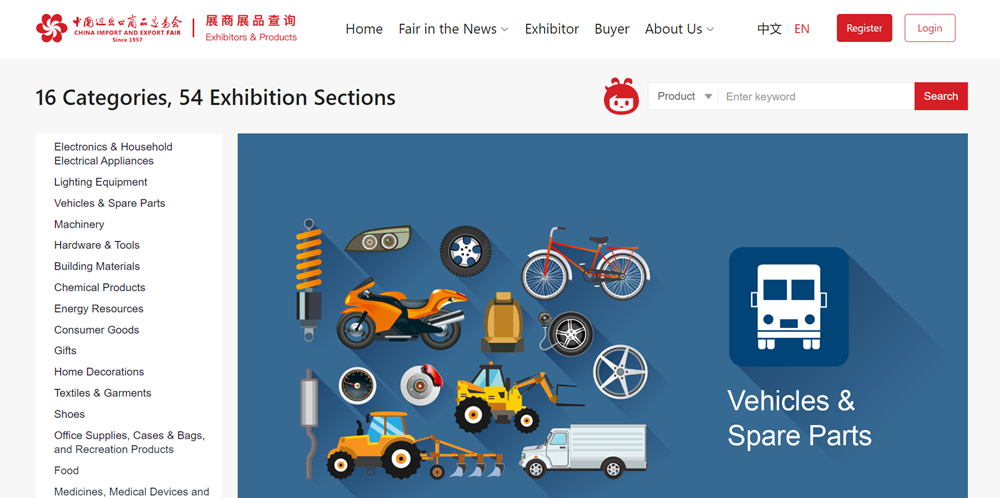 The Online Canton Fair, also known as the China Import and Export Fair, offers international buyers a virtual platform to source products from China. This renowned trade fair, traditionally held in Guangzhou, has expanded its reach through the online platform. The Online Canton Fair provides a comprehensive virtual exhibition experience, allowing buyers to explore diverse product categories, visit virtual booths, and interact with suppliers through live streaming sessions and video calls. The platform's business matching services further streamline the sourcing process, making it an indispensable tool for B2B buyers worldwide.
| | |
| --- | --- |
| Advantages | Disadvantages |
| Comprehensive virtual exhibition experience with diverse product categories. | Limited to specific fair periods rather than continuous sourcing. |
| Live streaming and video calls enable direct interaction with suppliers. | Potential for overwhelming information due to the scale of the fair. |
| Business matching services streamline sourcing. | Inability to physically inspect products before purchasing |
| Accessible from anywhere, eliminating the need for physical travel. | |
Considerations for B2B Buyers
When choosing a B2B platform to source products from China, international buyers should consider several factors:
-Product Type and Categories: Assess if the platform offers the specific product categories you require for your business.
-Order Quantities: Determine whether the platform is suitable for your order quantities, whether small-scale or bulk purchases.
-Customization Options: If customization is crucial, explore platforms that facilitate direct communication with manufacturers and suppliers.
-Business Model: Decide between B2B platforms connecting buyers with suppliers or B2C platforms for individual purchases.
Conclusion
By understanding the unique advantages offered by different B2B platforms in China, including the Online Canton Fair, international buyers can make informed decisions and maximize the benefits of sourcing products. Conduct thorough research, verify supplier credibility, read customer reviews, and communicate effectively to ensure a successful purchasing experience. Remember, leveraging the right B2B platform aligns with your business needs and can lead to long-term success in sourcing from China.
Maximize your opportunities, explore the diverse B2B platforms available, and embark on a fruitful journey of sourcing products from China!