A utility pump is a portable while durable dewatering pump that can be used in multiple applications in and around your houses. It is ideally used in emergencies like empty the flooded basements or sump pits after a rainfall.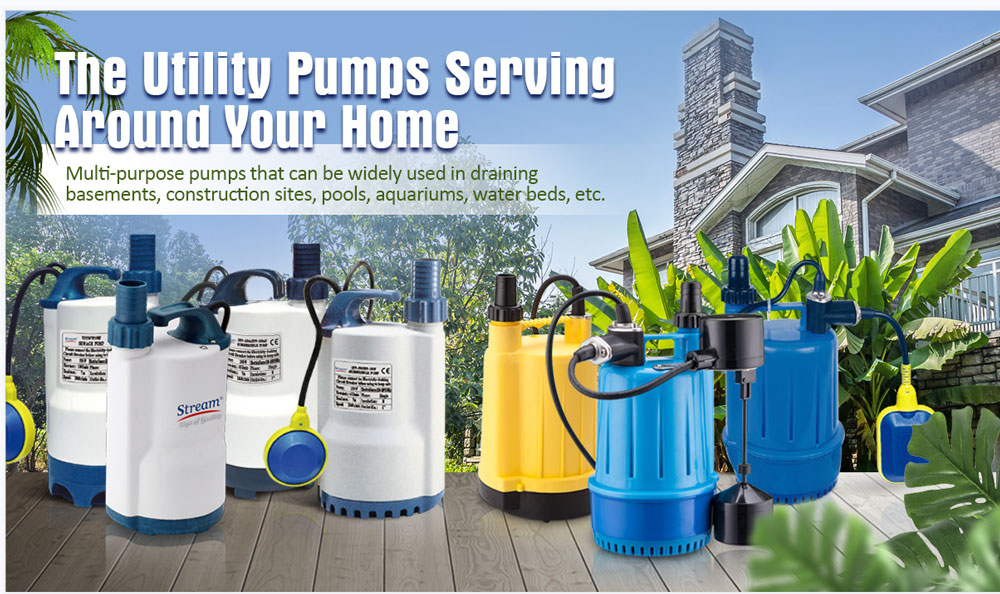 What're the unique features of utility pumps?
Portability
The most important feature of a utility pump is portability.
Most utility pumps are made of thermoplastic which features durable but lightweight housing.
They can be easily moved from one place to the other place and best used in small spaces where other water pumps cannot fit.
Durability
Another important feature that differs utility pumps from normal plastic pumps is, they are durable and can be used continuously. As the utility pumps are mostly made of thermoplastic and high performance motor, it can resist more adverse environment and serve longer time.
And it is trouble free with low installation and maintenance cost.
Versatility
The utility pump can be used in multipurpose such as draining water from rooftop, basements, sump pits, or watering plants and waterbeds. They are versatile and no need fixed installation, ready to use at anytime.
Simply plug in the pump and it can be used right away.
It is usually coming with multiple sized connectors to suit different hose connections.
The Intake filter prevents large particles and is easy to take off for cleaning.
The suction plate sticks closely to the floor surface which allows very low suction level.
It is optional with manual and automatic mode. In manual mode, the pump needs to be plugged out and stoped manually after the job done. In automatic mode, the float switch allows pump stops in a certain level automatically. This frees the user's hands but it leaves more residue water.
In general, the utility pumps are mostly used when you need to handle with the unwanted water indoors and outdoors. It is a right tool if you want to spend less time and money for a temporary job.

Streampumps offers a variety of utility pumps under your different choice.