A high efficiency circulator pump is also called an intelligent circulator pump or energy-saving circulator pump. It is designed with smart technology that can reduce energy usage up to 65% and supply system versatility for various circulator needs. It is normally built in a heating and air conditioning system or boiler heating system to improve the system efficiency and reduce the electrical usage to the largest extent.
High Efficiency VS Traditional Circulator Pump
Structure Features
The main components that makes the pump high efficient are the ECM permanent magnet motor and the internal various frequency controller. The ECM motor is featured with 85% motor efficiency, compact size and super low noise comparing with normal induction motors. The internal controller detects the system changes through armature current and adjusts the motor speed to satisfy the system on demand.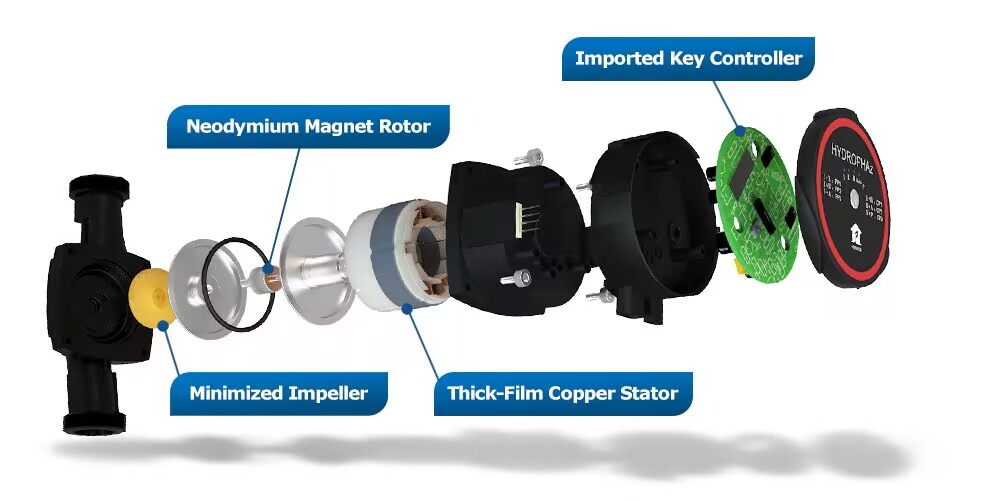 Parts description
Neodymium Magnet Rotor
High performance neodymium magnet rotor increases motor efficiency
Thick-Film Copper Stator
Compact and highly efficient stator reduces energy loss
Imported Key Controller
Detect signals and reaize various pumping speed control
Minimized Impeller
Improve running speed and hydraulic efficiency
Performance Advantages
Due to the ECM motor and built-in controller, the high efficiency circulator is actually working at Auto-Adaptation modes which fits itself to the system demands and only consumes necessary power.
The lowest standby power can be 5w.
What's more, a high efficiency pump allows multiple control modes such as constant speed modes, constant pressure modes and proportional pressure modes, covering different circulator needs in various HVAC installations.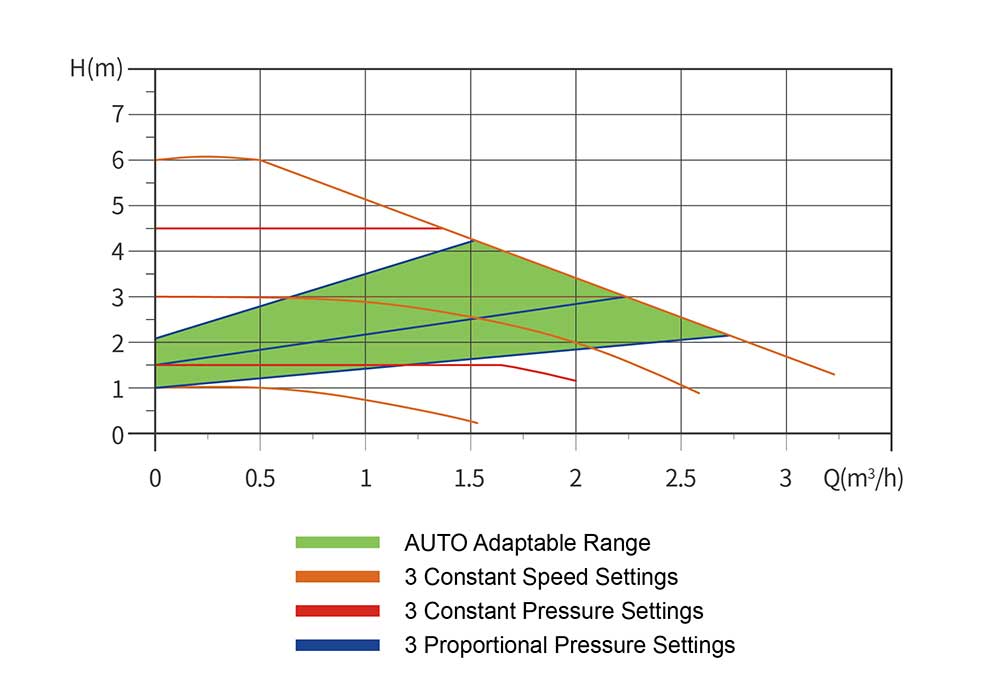 Future&Benefits
Improving energy usage is a hot topic today. More and more people are looking for ways to become energy-efficiency in their works and lives. HVAC systems are one of the biggest contributors to the commercial and household energy cost, acrossing from hot water systems, central and underfloor heating systems, closed air conditioning systems and solar thermal systems, etc. While the circulator pumps play the core part on the whole HVAC system circulation and energy consumption. A high efficiency circulator pump could lead to great energy saving on visible bill cost, together with additional savings on whole system efficiency improving based on right control modes and trouble-free services.
The high efficiency circulator pumps have already become compulsive demands for commercial and residential building within European unions due to the requirements for the Energy Related Products Directive (ErP). The required energy efficiency index (EEI) has reset to a standard by minimum efficiency ≤0.23.
Stream HYDROPHA high efficiency pumps are designed for high energy saving with EEI standards below 0.20, and offer system versatility by one pump fits all system requirements. Make your home more efficient, you could start from the HYDROPHA series pumps.